Shakeisha Thomas was part of the very first group to attend STI's Cosmetology Program. On November 15th, she returned to the salon where it all began! Shakeisha provided a lecture to the students and a testimonial on her experience in our program. On her second visit, she presented a live demonstration with full installation and a front closure, which is a sewing method. She also showed the students a debeaded extension method and shared information about her Boss Wigs Academy and the business she started. In addition to running the business, she also is home schooling her 6 children!
The experience was inspiring, interesting and a lot of fun for the STI students; they were able to get a bird's eye view into this specialized and lucrative field. We look forward to having Shakeisha come back in the future to provide guidance to our students while sharing her knowledge and expertise!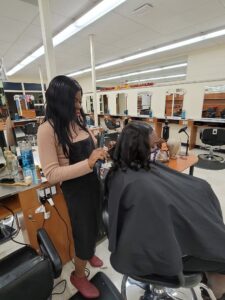 We also want to say a huge thank you to Mike Trowbridge, an STI alumnus who became a licensed cosmetologist and then went on to become a licensed barber. Mike is currently working at
Rectify Beauty Alcove and Barbershop
in Mansfield, where he is styling and cutting hair for celebrities, musicians and athletes including Patriots and Revolution players. He has been  traveling, competing, and working backstage in both London and California.  Mike came back to share his experiences and to bring us up to date on his career.  He also performed a haircut demonstration to show the newest techniques used in barbershops today. It was great to have Mike back in the STI salon  & we wish him continued success in his future endeavors!
For more information, or to apply to our Cosmetology Program,
click here
!