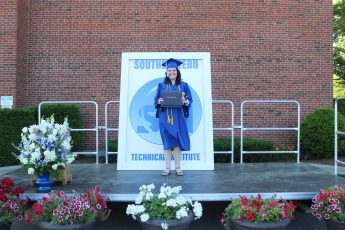 Meagan Allen, 2020 Recipient Medical Assisting Instructors' Award
The Medical Assisting Instructors' Award is given to a student who consistently exemplifies the personal and professional characteristics of a quality medical assistant. Meagan Allen demonstrated throughout the school year commitment to the program,  a strong work ethic, teamwork, empathy, and compassion. The award recognizes the student as one who will continue to represent the profession, our school and herself in the most positive manner. Congratulations Meagan!
Medical Assisting at Southeastern Technical Institute in South Easton, MA prepares students to be eligible to become Certified Medical Assistants through the American Association of Medical Assistants (AAMA). Medical Assistants are skilled in clinical and administrative duties, a valuable asset to many ambulatory care facilities. The full-time Medical Assisting Program begins September 2020, with students in school 5 days/week, including externship. The brand new part-time evening option begins in January 2021, with students in school 3-4 days per week for 15 months. Click here to read more and apply to Medical Assisting at STI!