Students Celebrate Children's Dental Health Month & Recognition Week
Five dental assisting students, along with instructor Jill Ferris, visited a kindergarten classroom at Chamberlain Elementary School in Taunton, MA to discuss oral health and hygiene. The students taught the kindergarteners about healthy snacks for their teeth as well as brushing and flossing instruction and had a lot of fun making tooth-related craft projects.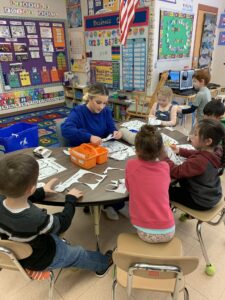 In honor of Dental Assistant Recognition Week, students were provided an array of sweet treats from the Colonial Room bakery and received special Recognition Week 2020 coin purses as a gift. The STI Medical Assisting staff and students gave the Dental Assisting students first aid kits and hand sanitizer. (The hottest commodity now!) If you would like to be a part of the 2021 Dental Assisting class, and graduate with the highest possible certification as an Expanded Functions Dental Assistant, apply now for September! Click here to learn more about Dental Assisting.