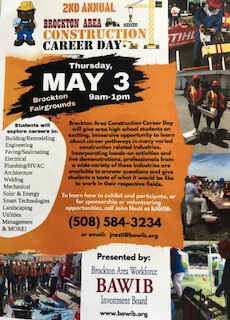 2nd Annual Brockton Area Construction Career Day
The Brockton Area Construction Career Day event is designed to introduce high school students to different careers and training in construction related industries. The day was coordinated and managed by the Brockton Area Workforce Investment Board (BAWIB) and the Youth Works One-Stop Career Center.
Upon arrival, students received a hardhat, safety vest and an event program listing the participating organizations. They were encouraged to interact with, and gain knowledge from, skilled professionals in various fields. STI Admissions Advisor Rhonda Jermyn spoke with several students from Brockton, Stoughton, Fall River, Avon, and Hanover. Most were inquiring about STI's 10 month Electricity and Plumbing as well as the HVAC Program. No doubt this event was a lot of fun, impactful, and offered students a great opportunity!