DentistryIQ, a leading source of information that helps promote oral health by supporting dental professionals, recently published an extensive dental assistant survey. From late July through early September 2021, DentalPost and Endeavor Media, including Dental Assisting Digest, partnered to conduct the largest and most comprehensive dental professional salary survey of its kind.
The majority of respondents (76%) assist general dentists, and the remaining 24% assist dental specialists. Forty-five percent work with office teams of five to 10 members, and nearly 22% work on large teams of more than 15 members. Seventy-five percent of responding dental assistants work in private practice settings, while 16% work in corporate practices. Of the 9% who responded "other," they assist in public health facilities, community clinics, hospitals, universities, military facilities, prisons, and public schools.
Assistants are earning more and getting better benefits, and are generally happier in their profession. What else does this year's salary survey reveal?
Dental assistant income is rising.
This year, 44% reported they received a pay raise in the last 12 months, and another 25% reported a pay raise in the last one to two years. In 2021, 61% of the full-time dental assistant salaries ranged from $31,000 to $50,000. Fourteen percent earned more than $50,000, compared with 12% in 2020. The states with an average reported income between $46,000 and $50,000 are California, Oregon, Virginia, Utah, Minnesota, Washington, and Massachusetts. 
Opportunities for career advancement.
Gainful employment.
Good earning potential.
Flexible hours.
Working as a member of a health care delivery team.
Ability to help others.
Click here to learn more about STI's Dental Assisting Program or to sign up for an in-person event. Enrolling NOW for September. Priority deadline is May 15th; apply early to avoid a waitlist!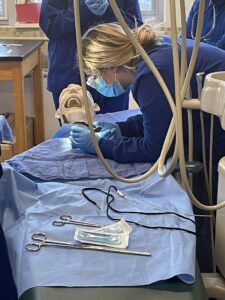 Source: https://www.dentistryiq.com/dental-assisting/article/14224029/dentapost-dental-assistant-salary-survey-the-future-for-assistants-is-promising