Student reviews are an important factor to consider when choosing to continue your education. Current Dental Assisting students Elizabeth Pickering and Jadyn Wilson provided helpful feedback  on STI & their career.
Beth Pickering heard about Southeastern Technical Institute because her daughter is in the dental assisting program here at Southeastern Regional Vo-Tech High School. When she realized it was offered as an Adult Education program, she applied the next day! With a Bachelors in Psychology, and after 20 years in the field, she wanted a change. She chose STI because of its reputation and the positive things she had heard about the program. "The staff, my teachers and classmates are probably my favorite part of school – they are all amazing. But the knowledge and hands-on experience I have already gained is unbelievable! I think the most important advice I can give to anyone looking into STI is to believe in yourself. I never thought at my age that I would be going back to school. It's a bumpy ride but worth every second!"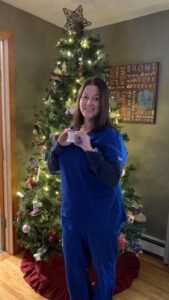 Jadyn Wilson knew about STI but revisited the idea when his cousin mentioned that there was a Dental Assisting Program. After taking a year off, he decided to further his education. He chose STI because "98% of the graduates become certified, it's an accredited program and financial aid is accepted. I love that we receive hands-on training and are prepared for what to expect in our chosen field." Jadyn's advice to prospective students is to "study for all upcoming exams and don't be afraid to ask questions or seek extra help." He looks forward to becoming a dental assistant and pursuing his passion.
STI's Dental Assisting Program is accredited by the American Dental Association Commission on Dental Education (CODA). The Commission is a specialized body recognized by the United States Department of Education. Graduates may sit for all three parts of the Dental Assisting National Boards – Infection Control, Radiology, and General Chairside. Click here for more information or to sign up for our February healthcare open house. Classes start in September and will fill soon!