Jennifer M. King Alfieri
Jennifer obtained her Masters in Education from Eastern Nazarene College and received a Bachelor of Science degree from Stonehill College. She also has her Educator's License in Mathematics and General Education along with the SEI Endorsement license from The Commonwealth of Massachusetts Department of Education. Jennifer is employed by Integrated Care Partners as a Billing Coordinator & is responsible for training and developing clients' healthcare information systems. She serves as a liaison to identify and rectify problems to optimize accounts receivables.
Jennifer enjoys working at STI because of the quality & caliber of the educational programs offered. She is honored to be a part of the team and to be able to assist students in achieving success in a career that is so rewarding. When not working or teaching, she enjoys reading, gardening and spending time with family – especially walking her dog Brady on the beach.
Sue Beer
Mrs. Beer is a graduate of Bridgewater State University where she earned a Bachelor's degree in Education and she has a Master's degree in Occupational Education from Fitchburg State University.  She is a member of the American Association of Medical Assistants and is a Certified Medical Assistant, CMA (AAMA).   Mrs. Beer's work experience spans forty years in the health care industry including positions in acute care and ambulatory care facilities. In addition, she has taught in the public school systems utilizing various educational strategies to encourage student success.  These experiences give her broad scope in teaching the skills and theory related to Medical Assisting.  Mrs. Beer has been at Southeastern for twelve years as the Clinical Instructor and Program Director for Medical Assisting. Recently retired but committed to the success of the inaugural evening Medical Assisting Program, she continues to teach several evening courses. She is an enthusiastic advocate for the program and its students and always looks forward to sharing her knowledge and expertise with each new class.
Michelle Conrad
Michelle received her diploma in Medical Assisting in 1993 from the National Education Center- Bryman Institute & has worked as a Medical Assistant for more than twenty  years. She has experience working in pediatrics, surgical, geriatrics, inpatient, dialysis, and physical therapy. Michelle truly enjoys teaching in the Evening Medical Assisting program & is grateful for the opportunity to take her Medical Assisting career to the next level and work with such a dedicated staff. Her favorite part of the program is working with the students in the lab teaching them the essential skills to become a Medical Assistant. In her spare time Michelle enjoys spending time with family and friends, reading, going to the beach, and traveling to different drag strips on the east coast with her husband Stevie, two daughters, Adrianna and Ava, and their boxer lab mix, Jack.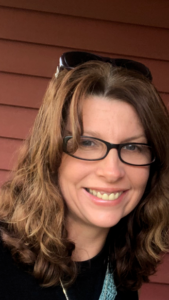 The next Evening Medical Assisting program starts this January. Click here to sign up for an Open House event and/or to shadow evening students in the lab!