Medical Assisting students have had a very busy but informative and rewarding month at STI!
The students hosted their first Blood Pressure Clinic inviting faculty and staff as well as friends and family to their lab where they measured blood pressure and other vital signs while practicing their interpersonal skills. The students reported that working with the public, managing their time and performing accurately and efficiently, was eye opening and a valuable experience. As always, the faculty and students are grateful to those who participated in this activity on their behalf.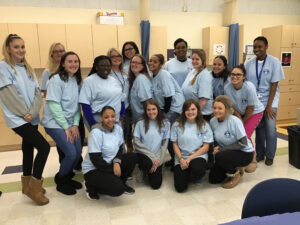 Several Guest speakers have joined the 
MA's
 this month. First, in recognition of Epilepsy Day, Susan Welby, Director of Community Education and Engagement for the Epilepsy Foundation of New England, spoke about the latest information, and treatment strategies for those afflicted with epilepsy separating myth from factual information. In recognition of the day, lavender was prominently displayed in medical assisting and throughout the TI. Thanks to Ms. Becker for her efforts in bringing this information to light  to benefit patients as well as as the student body.
As  the  medical assisting class was studying  the 
musculature
 system, Mrs. Janice 
Caci
, 
RPT
, spoke to the class about the profession of Physical Therapy, the goals and strategies of PT, various exercises, massage and therapy techniques utilized to improve patient function. She then conducted a "lab" with students and demonstrated safe 
practices
 for caring with patients while taking the students' thoughtful and pertinent questions.
Ms. Amanda Sandoval, MSW, CPS, Assistant Director for Treatment Services from High Point, along with Gabby Peruccio, Coalition Coordinator, joined the students to discuss the current 
Opio
id Addiction initiatives and the disease as well as services available in the region and other organizations on the forefront of substance abuse. This important information will be valuable to students who will soon be integral 
members 
of 
healthcare
 teams and will enhance their ability to assist in the delivery of quality patient care.
Finally The third week in October is National Medical 
Assistant's 
Recognitio
n Week. The faculty celebrated the students and their accomplishments thus far with a breakfast and a small goody bag of tokens of appreciation for them. 
STI
 applauds the hard work and dedication the Class of 2020 has demonstrated and looks forward to their continued success!